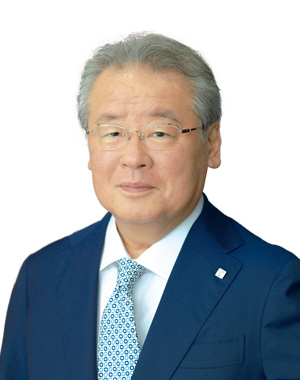 To begin, we at Otsuka would like to express express our sympathy and concern for all who have been affected by COVID-19. We also wish to reaffirm our respect and gratitude for all of the medical professionals and health care personnel who are working to provide care and support during the pandemic.
The global spread of this previously-unknown-in-humans infectious disease has turned the lives of people everywhere upside down. The struggle to contain the ever-mutating virus continues. At the same time, our collective future is increasingly uncertain, due to concerns such as geopolitical risks and the increased frequency of natural disasters in recent times. The outlook cannot be considered rosy.
Fiscal 2021, which marked the 100th anniversary of the establishment of the Otsuka group of companies, was also the intermediate year of our Third Medium-Term Management Plan, defined as Advance in the Global Market as a Unique, Total Healthcare Company: Five-Year Growth Phase. We have steadily implemented this plan while adapting to pandemic-wrought changes in society.
Our Pharmaceutical business was driven by continued robust growth of the product categories we have positioned as our four global prescription drug products. Likewise, new products such as our anticancer agent are steadily becoming established. In our Nutraceutical* business, functional beverage sales resurged. Demand also rose for supplements and related products due to increased health consciousness in society at large.
We remain steadfast in our commitment to addressing social issues that arise in a troubled and uncertain world. From our position as a total healthcare enterprise, we will continually adopt new technologies to accommodate new needs that arise from ever-changing global environments.
We reaffirm our dedication to contributing to the health of people by creating new solutions and benefits from our diverse business undertakings. Under our corporate philosophy, "Otsuka-people creating new products for better health worldwide," we will ceaselessly work to attain the goals set out in our medium-term management plan and to achieve sustainable growth from a long-term perspective.
We look forward to your ongoing support.


President and Representative Director, CEO
*Nutraceuticals = nutrition + pharmaceuticals