(September, 2021)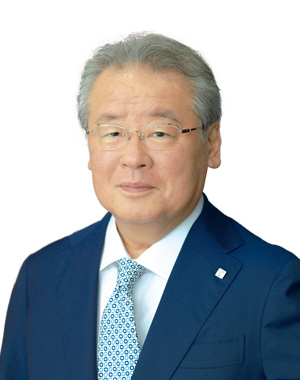 To begin, we would like to express our sympathy and concern for all who have been affected by COVID-19. We also wish to reaffirm our respect and gratitude for all of the medical professionals and health care personnel who are working to provide care and support during the pandemic.
The struggle to subdue the pandemic continues on a global scale. Mega-trends – including emerging geopolitical risks, the ongoing evolution of artificial intelligence and information and communication technology, and growing concern about environmental issues – are affecting economic and social change at an unmitigated pace. In these times of rapid change, we continue to focus on what only Otsuka can do in pursuit of true value.
Fiscal 2021 is the intermediate year of our Third Medium-Term Management Plan, defined as "Advance in the Global Market as a Unique, Total Healthcare Company: Five-Year Growth Phase." The first half of the term saw steady progress toward achievement of plans for our four global prescription drug products, the growth drivers of our Pharmaceutical business. In our Nutraceutical* business, in addition to development of global markets, sales of supplements fueled by increased health consciousness made a significant contribution. We are also targeting further growth through expansion of our product portfolio to provide a robust health platform for women. Aiming to achieve our business strategy of "Existing Business Value Maximization and New Value Creation" and our financial policy of "Business Management with a Corporate-wide Awareness of Capital Costs," we intend to accelerate ongoing initiatives as we continue to contribute to human health.
Toward creation of a sustainable society, we actively pursue environmental initiatives. Recently we completed introduction of CO2-free electricity at all manufacturing facilities for five group companies in Japan. Into the future, we aim to generate synergy through collaborations between group companies in Japan and overseas based on shared global targets.
September 2021 marks the 100th anniversary of the establishment of the Otsuka group of companies. As we prepare to enter our next century, we will continue to focus on becoming an indispensable contributor to people's health, fulfilling our corporate philosophy of "Otsuka-people creating new products for better health worldwide" through creation of innovative products and services that address social issues and anticipate unmet needs.
We look forward to your ongoing support.


President and Representative Director, CEO
*Nutraceuticals = nutrition + pharmaceuticals