Third Medium-Term Management Plan (2019–2023)
Advance in the Global Market as a Unique Total Healthcare Company —Five-Year Growth Phase—
Otsuka has continued to create new value, underpinned by its corporate philosophy of "Otsuka-people creating new products for better health worldwide" and driven by its essence of management—Ryukan-godo (Commitment), Jissho (actualization), and Sozosei (creativity). Integral to this value creation have been: (1) new concepts created from the organic combination of unique and diverse businesses with insights into the world's true needs and technological/scientific know-how; (2) synergies and related developments of diverse operations; and (3) the cultivation of niche areas of business.
As a total healthcare company that supports daily maintenance and promotion of health, extending from diagnosis through to the treatment of disease, we aim "to become an indispensable contributor to people's health worldwide" through our Pharmaceutical Business and Nutraceutical Business by offering original products that address both unmet medical needs and yet-to-be-imagined needs.
We have chosen, "Advance in the Global Market as a Unique Total Healthcare Company: Five-Year Growth Phase" to describe the positioning of our Third Medium-Term Management Plan. By creating new value and maximizing existing business value in our two core businesses—the Pharmaceutical Business and the Nutraceutical Business—and through business management with a corporate-wide awareness of capital cost, we aim to achieve sustainable growth.
Otsuka's Goal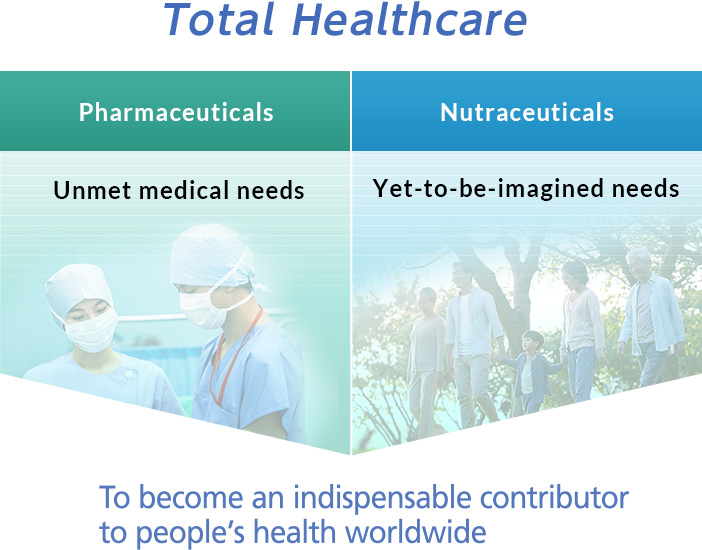 Strategy
Performance Target
Performance Target: Business Profit CAGR of 10% or More
Otsuka will achieve this target through steady growth of mainstay products and brands in the Pharmaceutical Business and the Nutraceutical Business.
Business Strategy
Business Strategy: Existing Business Value Maximization and New Value Creation
Strategic initiatives for mainstay products and brands to accelerate growth
We will strengthen strategic initiatives for growth drivers: 4 Global Products in the Pharmaceutical Business (ABILIFY MAINTENA, REXULTI, Samsca/JINARC/JYNARQUE, LONSURF); 3 Major Brands (POCARI SWEAT, Nature Made, and N&S) and 3 Nurture Brands (Daiya, EQUELLE, and BODYMAINTÉ) in the Nutraceutical Business.
Initiatives for next-generation businesses and products
In the Pharmaceutical Business, we will maximize existing business value, address the challenge of expanding into new frontiers to do what only Otsuka can do, and provide solutions for unmet medical needs and generating innovation from creative and diverse research platforms. In the Nutraceutical Business, we will create new concepts with sights set on changes in the business environment and address the challenge of expanding into new categories and new areas.
Financial Policy:
Business management with a corporate-wide awareness of capital cost
We will strive to balance and secure capital for growth investments and shareholder returns, and establish a management foundation to support accelerated global expansion toward disciplined management practices.
Presentation Materials