Process for Determining Materiality (Material Issues)
Materiality is initiatives that Otsuka is focused on. To determine the Otsuka group's material issues, we first compiled a list of social issues, referencing a range of international guidelines and frameworks, including ISO 26000, GRI, and the U.N. SDGs. We narrowed down the list of issues by evaluating them in terms of their importance, taking into account our ability to contribute to a solution, their impact on business, and our strengths. Issues were then discussed by the Sustainability Promotion Committee1 and approved at the Otsuka Holdings Board of Directors meeting. As a result, the material issues of the Otsuka group were determined to be: society (health, people, quality in all we do), environment (Carbon Neutrality, Circular Economy, Water Neutrality), and governance.
*1The Sustainability Promotion Committee promotes sustainability throughout the Otsuka group. The committee's responsibilities include discussing and deciding on the direction and plans for sustainability activities. The Otsuka Holdings director in charge of sustainability promotion serves as the committee chair. Committee members comprise group managers of departments relating to sustainability and the sustainability officers of each company.
Details on the sustainability management structure here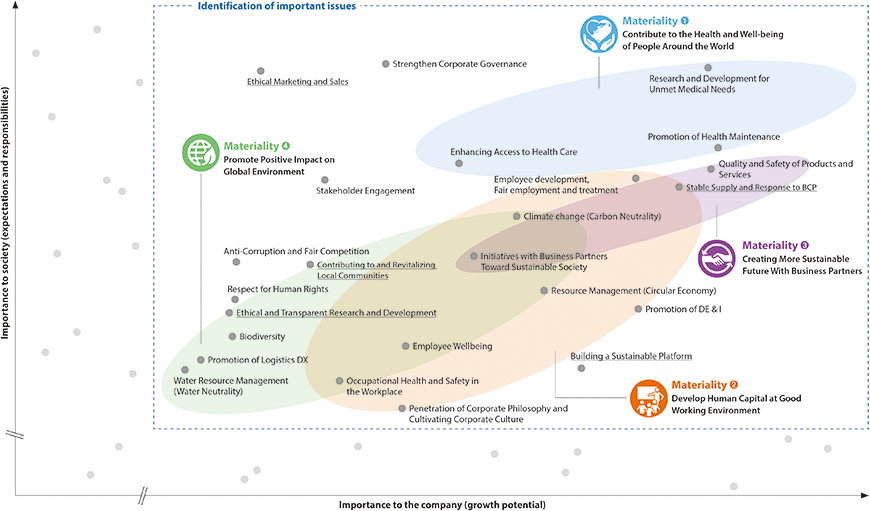 Map of Social Issues
We compiled a list of the social issues relevant to the Otsuka group's businesses, and created a map of social issues considering their importance in terms of sustainability and their degree of impact on business activities.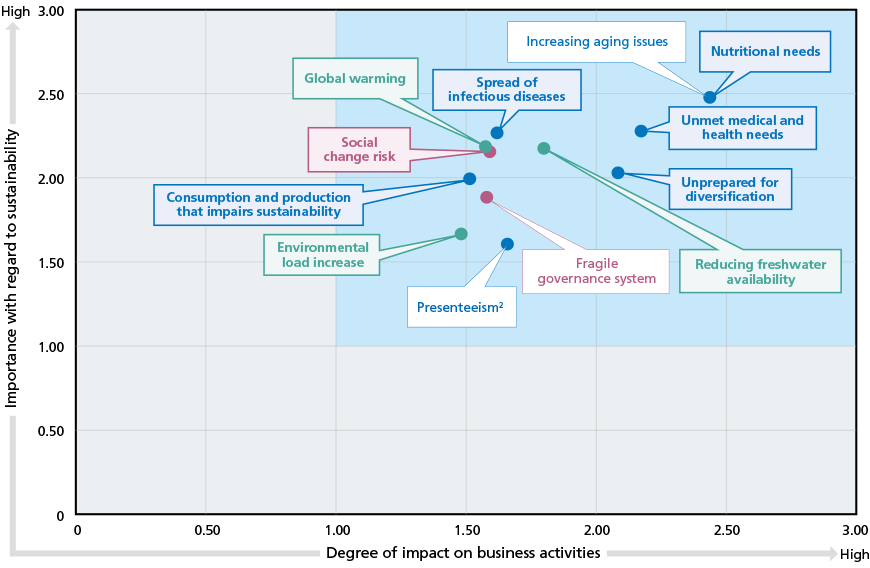 *2The situation where productivity does not go up due to the poor condition of the mind and body despite coming to work
The Otsuka Group's Materiality (Material Issues) and Related SDGs
Materiality
Social Issues
Our Goals
Our Activities
Related SDGs
Society
(Healthier Society)

Health

Unmet medical and health needs
Spread of infectious diseases
Nutritional needs
Increasing aging issues

Contribute to unmet needs solutions
Eradication of tuberculosis
Creation of a system for the realization of healthy lifestyles
Healthy life extension

Promotion of R&D for unmet needs
R&D of antituberculosis drugs and improvement of drug access
Support and awareness activities for people's health maintenance/improvement mainly on exercise and nutrition etc.
Promotion of problem solving by strengthening partnerships

People

Presenteeism
Unprepared for diversification

Creation of a corporate culture that stimulates creativity
Enhance employee engagement

Human resource development
Diversity promotion
Health and productivity management

Quality in All We Do

Consumption and production that impairs sustainability

Gaining stakeholder trust
Pursuing sustainability at all levels of the value chain
Establishing a quality assurance system for safety and security

Sustainable procurement and product design
Thorough quality control and stable supply
Responsible promotional activities and information provision
Deepening communication with stakeholders
Promotion of "consumer-oriented management"

Environment
(Healthier Planet)
Carbon Neutrality※1

2028 targets : Reduce 50% in CO2 emissions compared to 2017

Reduce CO2 emissions throughout the value chain

Circular Economy※2

Environmental load increase

2028 targets : Reduce 50% in simple incineration and landfill disposal compared to 2019
2030 targets : 100% content of recycled and plant-based materials in our PET bottles

Reduce environmental impact by improving resource efficiency
Promotion of business activities aimed at sustainability for both society and the earth

Water Neutrality※3

Reducing freshwater availability

2028 targets: Expand the plant water management program to all locations globally
2028 targets: Develop a water use strategy for business locations in water-stressed areas

Understanding water resources risk
Management and effective use of water resources

Governance

Fragile governance system
Social change risk

Long-term improvement of corporate value

Strengthening corporate governance
Thorough compliance
Risk identification, evaluation and management
※1 Sustainable energy use、※2 Sustainable use of raw materials、※3 Sustainable use of water resources