30 Years of the Otsuka Health Comic Library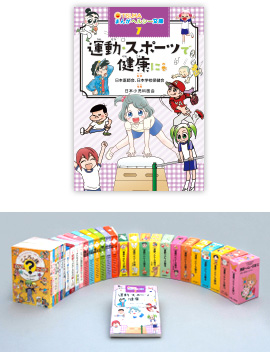 We began publishing the Otsuka Health Comic Library in 1989 to promote sound growth and development of health habits among children of the next generation. Produced with editorial supervision from the Japan Medical Association and the Japan Society of School Health, and endorsed by the Japan Pediatric Society, the library seeks to convey basic health knowledge to children, covering topics such as the makeup of the human body and nutrition, in a broad, easy-to-understand manner through the medium of comics. Every year we choose a different theme and publish a new volume. The comics are donated* to elementary schools, special needs schools, Japanese schools overseas, and public libraries.
Each year's theme is decided based on requests from schools and the opinions of organizations involved in school health. With the cooperation of experts in various fields, we are finding ways to deliver factual, accurate health information to children in a fun way. We are also working to make the comics a more useful part of school health education. Since 2015, together with the Japan Society of School Health, we cosponsored lectures by health experts and usage demonstrations of the library at schools. We are continuing to evolve 30 years after the first volume, and deepening our ability to communicate the value of health.
* Approx. 23,000 books each year