Basic Policy
At the Otsuka group, we know that the contributions of a diverse array of people is conducive to innovation and globalization, and to the development of innovative products. That is why we embrace and promote diversity. As a group of companies driven to innovate, we are committed to ensuring our workplaces are welcoming to all people.
Promotion System
Since 2008, the Diversity and Inclusion Promotion Team at each group company has led efforts for greater diversity and inclusion through individual company and coordinated group initiatives. These initiatives include planning group-wide systems, conducting seminars, and holding regular meetings to share each company's effective examples of diversity and inclusion.
Approach
Initiatives to Promote Diversity
Implement group-wide training and seminars on women's empowerment Ikuboss Corporate Alliance
We hold regular group-wide diversity seminars. A total of 2,770 people attended the seven seminars held from fiscal 2019 through fiscal 2021. We know that it is not enough for only employees to be aware of the issues—their bosses must broaden their awareness too. That is why we* established the Ikuboss (managers supportive of work-life balance) declaration
Theme
2019

Enhance performance and a sense of joy through Ikuboss system
Translate diverse human resources into a strength for the company

 
2020

Consider new ways of working for the future
LGBT seminar

2021

Unconscious bias
Learning from gold medal Olympic athletes about diversity (multiple viewpoints and flexible thinking)
Promoting active participation of diverse human resources
‭

*

Nine group companies: Otsuka Pharmaceutical, Otsuka Pharmaceutical Factory, Taiho Pharmaceutical, Otsuka Warehouse, Otsuka Chemical, Otsuka Foods, Otsuka Medical Devices, Otsuka Techno, and Otsuka Electronics 
Promotion of Women's Participation and Advancement in the Workplace
Women's Empowerment Principles signed (WEPs)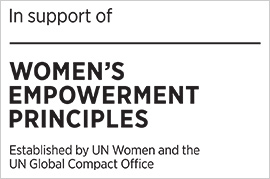 The Otsuka Group Global Code of Business Ethics states our commitment is to promoting diversity . Further, in 2017 the group became a signatory to the Women's Empowerment Principles (WEPs)1 , a set of corporate principles jointly developed by the United Nations Global Compact (UNGC) and UN Women2 that offers guidance on how to empower women in the workplace.
1

Women's Empowerment Principles

2

United Nations Entity for Gender Equality and the Empowerment of Women
Development of Female Leaders and Managers
Taiho Pharmaceutical believes that having women in management roles leads to more diverse views being reflected in management decisions. For this reason, the company began new initiatives in 2020 for female managers. Based on the results of an independent assessment, women reexamine their skills, abilities, and personality traits to create their own career plans, and are linking those plans to professional development through their work. Also, based on the independent assessment results, the company began individual training for women in management who want to move up to top-level positions. In 2021, to strengthen the development of female managers, we started new initiatives that include management training, dialogue with management, and mentoring.
Increase in Motivation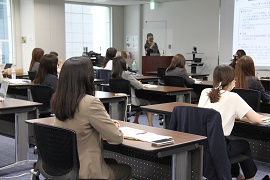 To further empower female employees, Otsuka Pharmaceutical started the Otsuka Women's Workshop as a forum for women to share information about marriage and childcare, in this way contributing to continued career development following marriage, childbirth, and childcare. WING was established in 2009 as a voluntary study group that identifies issues and discusses solutions in teams, which are then proposed to the company for making improvements. Participants are recruited throughout Japan regardless of gender or position to take part in cross-organizational activities under the theme, "When we change, we change the company." In addition, Otsuka Pharmaceutical Factory has been providing training on career design since 2017 to foster individual growth and strengthen our organization. In 2021, we conducted training that provided opportunities for development through mutual understanding between managers and mid-career employees with a view to developing leaders who can take full advantage of diversity.
Otsuka America Pharmaceutical among Recipients of HBA's ACE Award*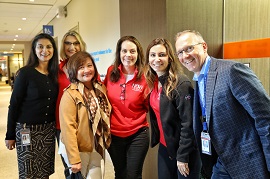 Otsuka Pharmaceutical in the U.S. established Otsuka's Network of Otsuka Women (NOW) in 2019 to drive efforts toward diversity, equity, and inclusion as key parts of its our global business strategy. With a membership of more than 500 employees, NOW connects women with opportunities to consider how to succeed and grow in the workplace, and NOW members have had higher promotion rates. In recognition of this and other initiatives, Otsuka America Pharmaceutical received the 2021 Advancement. Commitment. Engagement. (ACE) award* from the Healthcare Businesswomen's Association (HBA).
*

This award honors companies committed to ensuring gender diversity and leadership opportunities for women as part of their organizational DNA.
Support of Diverse Work Styles
Introduction of the Work Interval System and the Family Smile Support System
In Japan, we have introduced the Family Smile Support System*, which encourages employees to work from home before/after parental leave, or when taking on childcare/child-rearing and nursing care obligations. This system has led to improvements in work efficiency, productivity, and work-life balance. We have also introduced the Work Interval System, which mandates minimum rest periods for shift workers.
*

Revised telework system for increased flexibility
Opened daycare centers at our business premises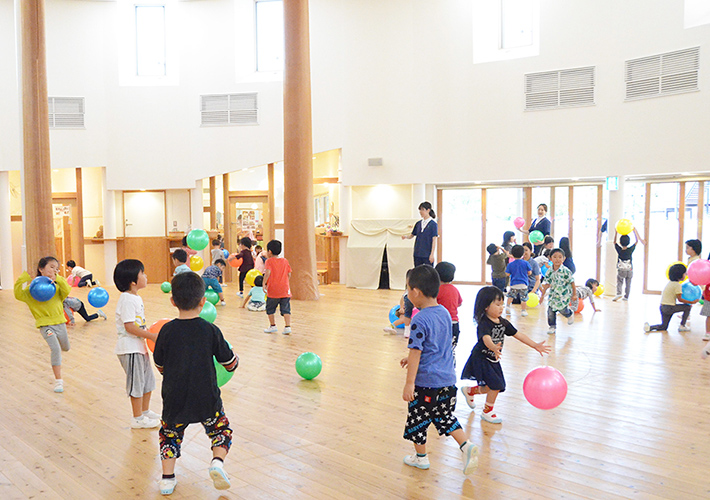 We have opened daycare centers at three of our business premises (in Tokushima, Osaka, and Tsukuba) to help employees balance childcare and work. Since its establishment in Tokushima in 2011, it is now one of the few large-scale nurseries in Japan in terms of on-site childcare facilities.
Creating a Workplace Where Employees Can Receive Treatment While Continuing to Work
As a company developing and supplying anticancer agents, Taiho Pharmaceutical has a team to realize "Workplace support for employees with cancer." This team, mainly composed of the Human Resources Department and occupational nursing staff, aims to create a workplace where employees with cancer or other diseases can receive treatment while continuing to work. Going further, in 2019 the company launched C-Guide Portal, a portal site about cancer for employees. The site provides information on systems and consultation desks that employees and their families can use if someone develops cancer or another disease, and highlights the importance of cancer prevention and screening. It also has a page where users share experiences. Here, employees share information about the reality of treatment, learned through family members' or their own experiences fighting cancer. This helps employees deepen their understanding of and recognize issues in cancer treatment. Meanwhile, it enhances their appreciation of the role they play as employees of Taiho Pharmaceutical, an anticancer drug manufacturer.
While lectures and briefings are provided to other companies, including those in other industries, lectures are held not only at the company but also throughout the Otsuka group to continue spreading awareness throughout society.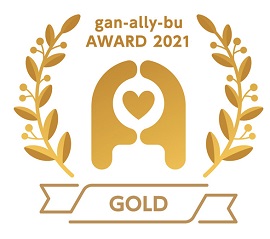 Won an Award of Excellence under the Tokyo Work Circle Project in 2016 (organized by the Tokyo Metropolitan Government), which recognizes companies as having outstanding initiatives that help cancer patients balance treatment and work.
Won a gold prize for three consecutive years (2019–2021) at the Cancer Ally Awards organized by Gan Ally Club, a private-sector project addressing the issue of cancer and employment
Promoting the Active Participation of the LGBTQ community, People with Disabilities, and Senior Citizens
Initiatives for the LGBTQ Community
LGBTQ-related training is provided throughout the group, including for human resource departments and other sections, in order to promote understanding. Also, from 2020, Taiho Pharmaceutical has conducted training for the human resources (HR) department, the management tier, as well as other divisions and departments to introduce basic understanding on this topic and to convey the current thinking in Japanese society, with examples of initiatives by other companies. The training also covers specific examples of what can be done today. Approximately 1,700 employees have taken the course to date. In 2021, 230 employees took part in an Otsuka Chemical webinar for all employees entitled "Companies and LGBTQ: Considering Diversity in the Workplace." Otsuka Pharmaceutical also conducts training for all personnel, while Otsuka Warehouse is striving to create a more comfortable work environment, for example by removing the terms male and female from work regulations.
Initiatives for the Employment of People with Disabilities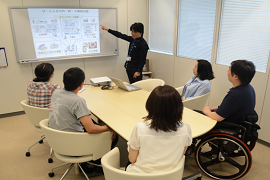 Otsuka Pharmaceutical established Heartful Kawauchi in Tokushima City in 2011 as a special purpose subsidiary. This subsidiary helps people with disabilities to fully realize their potential.
Encouraging Active Roles for Senior Employees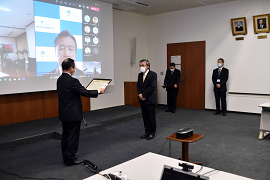 At Otsuka Pharmaceutical Factory and Taiho Pharmaceutical, older employees who have been recently recruited are an important force for the company, and a system has been established to recognize those who have contributed to corporate earnings and the development of human resources.
Diversity & Inclusion-related Systems
Please refer to the website of each company.
External Recognition
Content
Company
Nadeshiko Brand
System for selecting companies that actively promote the employment and advancement of women. (Ministry of Economy, Trade and Industry; Tokyo Stock Exchange)
Selected in 2020: Otsuka Holdings*


* Scope of survey: Otsuka Holdings and Otsuka Pharmaceutical

Platinum Kurumin and Kurumin
Certification system based on the Act on Advancement of Measures to Support Raising Next-Generation Children. Platinum Kurumin is a certification for Kurumin-certified companies that have carried out higher-level initiatives. (Ministry of Health, Labour and Welfare)

Platinum Kurumin:
Otsuka Pharmaceutical Factory, Taiho Pharmaceutical, and Otsuka Chemical
Kurumin:
Otsuka Pharmaceutical, Otsuka Foods, and others

Eruboshi
Certification system based on the Act on Promotion of Women's Participation and Advancement in the Workplace. Companies are recognized for excellent efforts to empower women in the workplace. (Ministry of Health, Labour and Welfare)
Eruboshi (Level 3): Otsuka Chemical (from 2019)
MONISU Certification
Certification system recognizing small- and medium-sized enterprises that excel in their efforts to provide employment to people with disabilities. (Ministry of Health, Labour and Welfare)
2020 certification: Heartful Kawauchi
Acquired Tomonin Mark
Certifies companies that strive to create a work environment that allows employees to balance work and caregiving. (Ministry of Health, Labour and Welfare)
Acquired by Otsuka Pharmaceutical
Certified as a Great Place to Work®
Certifies companies that create an outstanding employee experience according to Great Place to Work,®, a global leader in workplace culture and employee awareness surveys
Selected in 2021: Otsuka America Pharmaceutical, Inc. (OAPI) and Otsuka Pharmaceutical Development & Commercialization, Inc. (OPDC)

Second place among large pharmaceutical and biotech companies in the Best Workplaces for Millennials category

Third place among large pharmaceutical and biotech companies in the Best Workplaces in New York category

Seventh place among biotech companies in the Best Workplaces in Health Care and Biopharma category