Basic Policy
The Otsuka group recognizes that the mental and physical well-being of each and every employee is indispensable to realizing the group's shared corporate philosophy. To this end, we are committed to creating a safe workplace environment and are continuously implementing initiatives to help employees maintain and improve their health.
Approach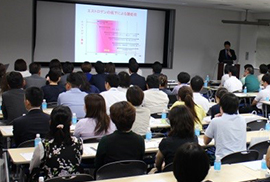 The major Otsuka group companies have issued a declaration on health under which they strive to create a workplace environment conducive to employee health maintenance and improvement. As part of efforts led by Otsuka Holdings, officers in charge of health management at each group company cooperate with the Otsuka Pharmaceutical Health Insurance Association and medical professionals in activities aimed at improving the health of employees. One such activity that started in 2015 is the hosting of Health Seminars for group employees and their families. Held in major cities across Japan, these seminars are aimed at communicating the group's initiatives on health, introducing the Otsuka Pharmaceutical Health Insurance Association, and disseminating information relevant to improving the health of employees and their families, with total attendees now surpassing 1,500.* The seminars consist of information that draws on knowledge gained in the group's businesses, and encourage employees and their families to reexamine their conceptions about health. In 2020, the seminar was held online due to the COVID-19 pandemic.
*As of December 31, 2020
Offering a Wellness Program for Employees
As a company that provides nutritional products, Pharmavite, a supplement company in the U.S., offers employees a wellness program called PharmaFit. Nutritionists visit the company to provide nutrition-related information and consultations, and the company provides incentives for employees to participate in exercise programs.
Improving Workplace Health and Safety
For the purpose of creating a safe and secure workplace, at factories and other business sites of each group company in Japan we have established safety and health committees, as defined in the Industrial Safety and Health Act. We actively carry out workplace health and safety inspections, as well as the necessary activities to ensure appropriate management of health, operations and the workplace environment, in addition to relevant education and training. These activities are reported at health and safety committee meetings and form the basis for improvements to the workplace environment. Furthermore, major group companies hold a joint group health and safety meeting every year to share reports on workplace accidents and recurrence prevention measures. Otsuka Pharmaceutical also conducts various programs, both in the company and outside, to promote workplace health and safety. One example is an annual meeting to share workplace health and safety information with business collaborators.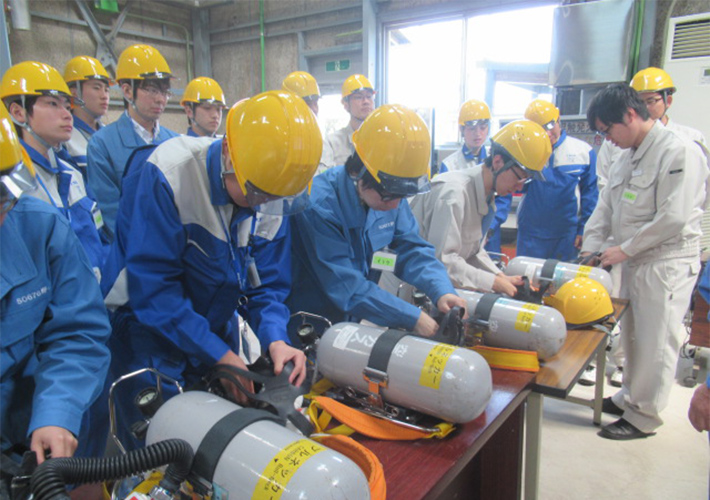 Otsuka Chemical, which handles chemical substances, conducts various workplace safety initiatives. Major initiatives include a system for swift information sharing on issues related to factory operations among all domestic and overseas locations, as well as regular reporting of group safety at Board of Directors meetings. Another key initiative is Anzen Dojo, an experience-based safety training center which opened in 2012 as part of measures to prevent occupational accidents. The center runs training programs aimed at improving safety awareness for group employees, employees of overseas affiliates, and third parties. Through classroom instruction and simulations of past accidents, the center reinforces lessons from failures and safety knowledge, sharpens awareness of danger, and develops the ability to identify potential risks. In recognition of its activities to improve health and safety education and establish a safety culture through Anzen Dojo, Otsuka Chemical received an RC Outstanding Award from the Japan Chemical Industry Association at the 8th Annual Responsible Care Awards in 2014.
Reducing and Shortening Overtime, and Encouraging Employees to Take Paid Leave
In order to reduce and shorten overtime, Otsuka Pharmaceutical requires employees to submit notifications before working overtime so that their supervisors can appropriately manage work hours. The company also mandates a minimum interval between shifts to foster an environment where employees can work in good health. Specifically, when an employee unavoidably works until late at night, a certain amount of rest time before the start of the next shift is guaranteed. In addition, at Otsuka Warehouse, the time that the last person leaves every head office department and branch office is posted on the intranet each day to make the work situation visible. The aim of this effort is to raise employees' awareness of productivity per hour. The company has also adopted a system to solve challenges in a company-wide effort rather than within each department alone.
Otsuka Warehouse has established a new truck reservation system to help solve the issues of long driver working hours and the shortage of drivers and vehicles, which have become a challenge for the entire logistics industry. It is now possible to make reservations for unloading times online, thereby greatly reducing driver waiting times and increasing the efficiency of transport tasks.
Zero Smoking Rate Initiatives at Taiho Pharmaceutical
As a health-related company that has made oncology a core business area, Taiho Pharmaceutical has set the goal of realizing a zero employee smoking rate by 2023, and began implementing new measures toward that goal in 2020. For example, we made systemic changes such as subsidizing the cost of outpatient smoking cessation treatment and making being a non-smoker a factor that is considered when appointing people to management positions. In addition, we actively provide information, such as sharing tips on the company intranet from employees who successfully kicked the habit.
Response to COVID-19
The Otsuka group has adopted new work practices to ensure that employees can work safely during the COVID-19 pandemic, including the introduction of a work-from-home system and the shift of documentation and approval processes to electronic formats. Also, in addition to thorough infection countermeasures within the company, we have prepared guidelines for preventing infection and for home recuperation, and post them on the intranet to deepen employees' understanding.
Furthermore, we are taking steps to enhance care measures for mental health. For example, Otsuka Pharmaceutical Factory has established a new external counseling hotline, and Taiho Pharmaceutical provides detailed support, including individual interviews with specialists (i.e. counselors, nurses and public health nurses), for all employees posted away from their families. To solve the problem of lack of exercise due to working from home, we released a video on exercises that can be done at home, and introduced a smartphone app that allows employees to participate in various classes such as weight training and aerobic exercise. At Otsuka Pharmaceutical, online streaming was set up so that group exercises (previously carried out at some offices) could be performed at home, enabling all employees throughout Japan to join in.

Example of COVID-19-related information distributed in-house: Preparing for Home Recuperation Just in Case
Declaration on Health of Otsuka Group Companies
External Recognition
Health & Productivity Management Outstanding Organization (White 500)
(large enterprise category)
Health & Productivity Management Outstanding Organization*
(large enterprise category)
Health & Productivity Management Outstanding Organization (Bright 500)*
(SME category)
Health & Productivity Management Outstanding Organization*
(SME category)
Otsuka Holdings, Otsuka Pharmaceutical, Taiho Pharmaceutical, Earth Corporation
Otsuka Pharmaceutical Factory
Otsuka Pharmaceutical Health Insurance Association
Otsuka Medical Devices, Otsuka Electronics, JIMRO, Otsuka Wellness Vending
Description

Company
Sports Yell Company 2021
Program recognizing companies that actively support and promote measures to improve employees' health through sports. (Japan Sports Agency)
2021 selection: Otsuka Pharmaceutical (from 2017)
Tokyo Metropolitan Government Sports Promotion Model Company (Practical Division)
The Tokyo Metropolitan Government Sports Promotion Company certification program recognizes companies that implement quality initiatives to encourage and support employee participation in sports. Those that conduct initiatives with a particularly significant social impact and ripple effect are selected as a Model Company (Practical Division).
2020 selection: Otsuka Pharmaceutical


Note: Otsuka Pharmaceutical has been certified as a Tokyo Metropolitan Government Sports Promotion Company for six consecutive years since 2016, and was selected as a Model Company (Practical Division) for the first time in fiscal 2020.