Basic Policy
At the Otsuka group, we believe that maintaining workplaces that enable each employee to work in good health and spirits is vital for making our shared corporate philosophy a reality. This was also the thinking behind the declarations on health made by major Otsuka group companies.
Health and Productivity Management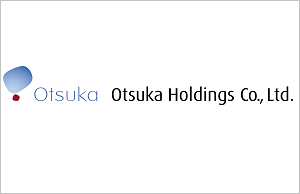 Health & Productivity Management Outstanding Organization (White 500)
Otsuka-people creating new products for better health worldwide
We believe that the physical and mental health of every employee is essential for us to live up to our corporate philosophy. We will strive for a working environment that supports employees in maintaining and improving their health, enabling them to play active roles while fully demonstrating their abilities and individuality.
Tatsuo Higuchi
President and Representative Director, CEO
Otsuka Holdings Co., Ltd
April 1, 2017
Promotion System for Health and Productivity Management
The mental and physical wellbeing of every employee is essential for the pursuit of the group's shared corporate philosophy. Therefore, Otsuka Holdings' executive deputy president and director is in charge of health and productivity management, and under his supervision the Otsuka Pharmaceutical health insurance association, each group company's health and productivity promotion manager, and specialist staff such as industrial physicians and nurses work collaboratively across the entire organization to help maintain and enhance the health of employees and their families. The Board of Directors also monitors issues related to maintaining and improving health as well as the goals and progress of health management initiatives.
Promotion System (Japan)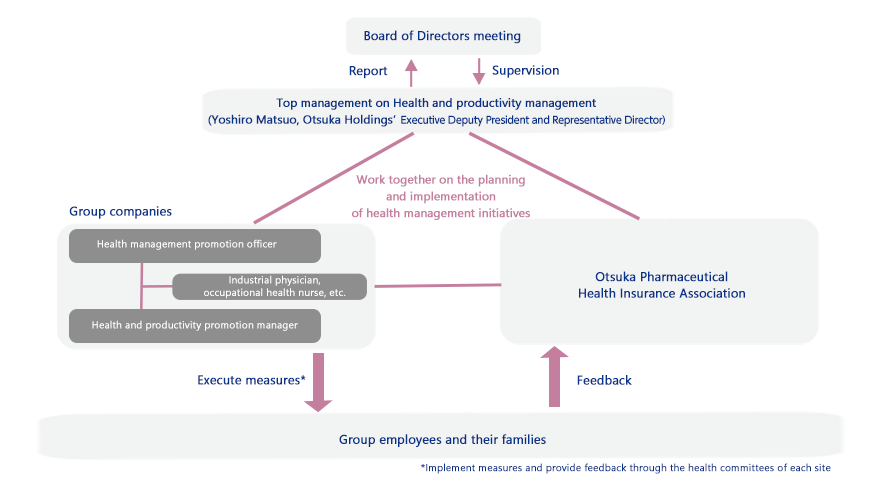 In addition, employees' health-related information is integrated into the health management system* so that medical staff, health officers, and supervisors at all business sites can share information that is required at any time. Based on this information, the health of each group company is analyzed so that group initiatives can be formulated.
*A system for managing health information from regular medical examinations and interviews with employees by industrial health staff, etc.
Approach
Health Management Action Plan Goals and Progress
Goals
Health checkup rate 90% (2023 target)
Implementation of specified healthcare guidance 55% (2023 target)
Progress
Health checkup rate 80.0% (2021)
Implementation of specified healthcare guidance 72.8% (2021)
*Insured persons and their dependents who are members of the Otsuka Pharmaceutical Health Insurance Association (for Otsuka group companies in Japan)
Health Promotion Activities
Health Seminars: Ensuring the Good Health of Employees and their Families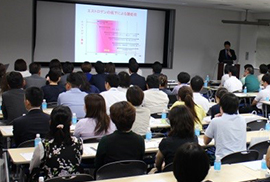 As part of efforts led by Otsuka Holdings, officers in charge of health management at each group company cooperate with the Otsuka Pharmaceutical Health Insurance Association and medical professionals in activities aimed at improving the health of employees. One such activity that started in 2015 is hosting health seminars for group employees and their families. Held in major cities across Japan, these seminars are aimed at communicating the group's initiatives on health, introducing the Otsuka Pharmaceutical Health Insurance Association, and disseminating information relevant to improving the health of employees and their families. The seminars consist of information that draws on knowledge gained in the group's businesses, and encourage employees and their families to reexamine their ideas about health. In 2021, approximately 1,300 people participated in online seminars on women's health and cancer.
In addition, in 2022 we started providing health consultations by a gynecologist under an initiative of the Otsuka Pharmaceutical Health Insurance Association with the aims of helping women live their lives the way they want and supporting the creation of a comfortable work environment. They are free to seek consultations on issues unique to women depending on their age and life stage, such as menstrual symptoms and diseases, PMS, and menopause.
Group-wide Initiatives (Japan, 2021)
Otsuka Pharmaceutical Health Insurance Association conducts an annual health promotion program for all Group employees.
| No | Initiatives | Objective/Outline | Number of times implemented / duration |
| --- | --- | --- | --- |
| 1 | Prevent of serious illness (letter recommending medical exam) | Prevent lifestyle-related diseases from becoming serious by recommending medical examinations when necessary for those who have not yet received treatment, providing effective treatments, and making improvements in their lifestyles. | Twice |
| 2 | Online health seminar | Intended to reduce presenteeism. Practice simple exercises or yoga at lunchtime, since many people suffer from stiff shoulders and back pain when working from home or at a desk. | Twice |
| 3 | KENPOWALK | Smartphone walk rally with pedometer app to develop healthy habits | Three-month period |
| 4 | 30-day oral care challenge | Conduct jointly with Earth Corporation so that people can perform daily oral care correctly and effectively. | 30-day period |
| 5 | Online stop-smoking clinic | Provide support for those who want to quit smoking. | December 2021 to March 2022 |
Other Group Company Initiatives
Initiatives to Promote Exercise, including POCARI/fresh [Otsuka Pharmaceutical, Taiho Pharmaceutical]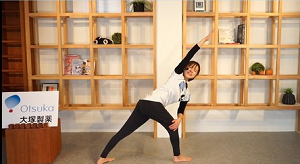 Otsuka Pharmaceutical conducts 8-minute "refresh calisthenics" (POCARI/fresh) once a week with different exercises each time at offices and factories under the supervision of an instructor. These exercises changed to online only in fiscal 2020 so that employees working remotely could also take part in POCARI/fresh. Taiho Pharmaceutical introduced an exercise app company-wide with the aim of providing the opportunity to exercise and improve communications related to exercises, in this way supporting good exercise habits for individual needs. This company also holds company-wide inhouse sports days using the same exercise app.
Zero Smoking Rate Initiatives (Taiho Pharmaceutical, Otsuka Foods)
As a health-related company that has made oncology a core business area, Taiho Pharmaceutical has set the goal of realizing a zero-employee smoking rate by 2023, and began, in 2020, new initiatives for reaching that goal. For example, we made systemic changes, such as subsidizing the cost of outpatient smoking cessation treatments and making nonsmoking a consideration when appointing people to management positions. In addition, we provide information, such as sharing tips on the company intranet from employees who successfully "kicked" the habit., Otsuka Foods also implements other initiatives, including a stop smoking support program (assistance with cost) and the removal of indoor and outdoor smoking areas.
Offering a Wellness Program for Employees (Pharmavite)
As a company that provides nutritional products, Pharmavite, a supplement company in the U.S., offers employees a wellness program called PharmaFit. Nutritionists visit the company to provide nutrition-related information and consultations, and the company provides incentives for employees to participate in exercise programs.
Boosting mental and physical health with a virtual run.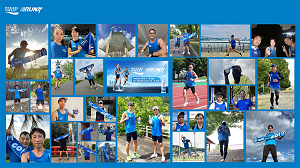 In conjunction with World Mental Health Day, the POCARI SWET RUN charity event took place between October 1 and November 14, 2021, in collaboration with Silver Ribbon-a mental health awareness NPO based in Singapore. The event is a virtual running race utilizing a smartphone app. Participants choose their distance and donate to the NPO based on how far they manage to run. Around 4,000 runners, including Otsuka group employees from Japan and Indonesia, laced up their running shoes and took part in the event.
Before the race, participants could join online seminars to hear psychiatrists and athletes talk about mental health, focusing on mental welling, exercise, and hydration. Events of this kind highlight how Otsuka can work closely with and support consumers' mental and physical health by utilizing the synergy of its two core businesses.
Mental Health Care Initiatives
We conduct stress tests once a year, as required by law. Also, Taiho Pharmaceutical's detailed initiatives include individual interviews and emails by nurses and public health officials to all employees who have posted away from their families or who are experiencing high stress based on their stress test results. Otsuka Pharmaceutical Factory established a new external consultation desk in 2020.
Infection Control and Prevention of Health Hazards
The Otsuka group has adopted new work practices to ensure that employees can work safely during the COVID-19 pandemic, including the introduction of a work-from-home system and the shift of documentation and approval processes to electronic formats.
Work style innovation
Overtime Reduction Policy
The Otsuka group believes that reducing long work hours is critical to maintaining the physical and mental health of every employee. Guided by this policy, each operating company undertakes its own initiatives for shortened work hours following the laws and regulations of each country and region.
Initiatives to Reduce Overtime Hours
The Otsuka group is working to visualize overtime hours as part of the attendance system to reduce overtime hours. Initiatives designed to prevent long work hours include displaying on individual computer screens a warning regarding Article 36 of the Labor Standards Act and unregistered attendance. We have also introduced a system where personnel departments can check when individuals log on and off their computer to maintain the physical and mental wellbeing of employees.
In order to reduce and shorten overtime, Otsuka Pharmaceutical requires employees to submit notifications before working overtime so that their supervisors can appropriately manage work hours. The company also mandates a minimum interval between shifts to foster an environment where employees can work in good health. Specifically, when an employee unavoidably works until late at night, a certain amount of rest time before the start of the next shift is guaranteed. In addition, at Otsuka Warehouse, the time that the last person leaves every head office department and branch office is posted on the intranet each day to make the work situation visible. The aim of this effort is to raise employees' awareness of productivity per hour. The company has also adopted a system to solve challenges in a company-wide effort rather than within each department alone.
In addition to the initiatives for its employees, Otsuka Warehouse have established a new truck reservation system to help solve the issues of long working hours for truck driver and the shortage of drivers and vehicles, which have become a challenge for the entire logistics industry. It is now possible to make online reservations for unloading times, in this way significantly reducing wait times for drivers and increasing the efficiency of transportation.
External Recognition
Health & Productivity Management Outstanding Organization (White 500)
(large enterprise category)
Health & Productivity Management Outstanding Organization
(large enterprise category)
Health & Productivity Management Outstanding Organization
(SME category)
Otsuka Holdings, Otsuka Pharmaceutical, Taiho Pharmaceutical
Otsuka Pharmaceutical Factory, Otsuka Foods, Otsuka Warehouse
Otsuka Medical Devices, Otsuka Pharmaceutical Health Insurance Association, Otsuka Wellness Vending, Otsuka Electronics, Otsuka Techno, JIMRO
Description
Company
Sports Yell Company 2022
Program recognizing companies that actively support and promote measures to improve employees' health through sports. (Japan Sports Agency)
2022 selection: Otsuka Pharmaceutical (Bronze prize, selected for five consecutive years, since 2017), Taiho Pharmaceutical
Tokyo Metropolitan Government Sports Promotion Model Company
The Tokyo Metropolitan Government Sports Promotion Company certification program recognizes companies that implement quality initiatives to encourage and support employee participation in sports.
2021 selection: Otsuka Pharmaceutical


Note: Certified for seven consecutive years since 2015