Basic Policy
Throughout history, innovation has always been generated by people. At the Otsuka group, we strive to attract talented personnel, develop their individual abilities on an ongoing basis, and enable them to fulfill their potential. This enables us to continuously generate innovation.
In addition, we intend to continually drive innovation by actively promoting communication and engagement both inside and outside the group and by building networks that transcend job category and field that are not bound by a stereotype.
Approach
Upholding Our Corporate Culture and Developing Global Leaders
In 2016, Otsuka Holdings established the Otsuka Global Academy with the aim of ongoing identification and development of the global human resources needed for sustained growth. The academy's programs, which target Otsuka group employees worldwide, are designed and run in-house, but we also partner with outside institutions in some areas for more effective human resource development.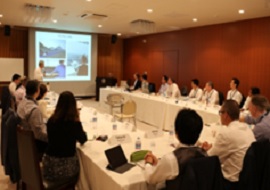 Guided by the commitment of Otsuka Holdings' executives and rooted in the leadership of the Otsuka group's founding figures and the group's unique approach to business, participants learn about and discuss the kinds of people the Otsuka group needs for its next generation of leaders and the skills they are expected to possess, and are cultivated as future leadership candidates.
Meanwhile, since 2021 Taiho Pharmaceutical has partnered with outside institutions to provide training that emphasizes dialogue on upholding the company's longstanding corporate culture and mindset. Inspired by the company's slogan "Acting on what should be done," training currently targets company executives, but the company intends to broaden coverage going forward.
A System That Generates Innovation
Human Resource Development through Collaboration Inside and Outside the Group
The Otsuka group views partnerships and collaborative efforts inside and outside the group as opportunities to help address the unmet medical needs of patients worldwide. By sharing expertise and state-of-the-art technologies, we are boosting our drug discovery capabilities, further improving our development capabilities, and stepping up our global expansion. For example, Taiho Pharmaceutical established its own corporate venture capital (CVC) subsidiary in the U.S. in 2016, and is using it to forge a network with promising biotech start-ups and the academic community in the U.S. and elsewhere with a view to generating innovation. The company also seconds employees from Japan to the CVC subsidiary for a few years to gain overseas experience as part of their professional development.
Open Recruitment System/Self-assessment System
We have also established an open recruitment system1 and self-assessment system2 for the purpose of enhancing the capabilities of employees at each company.
1:

Under this system, the Otsuka group internally discloses requirements of a certain position or job and then fills it from among those who apply. Employees that satisfy the requirements can apply directly to the company offering the position and be transferred if the expectations of both parties are in agreement. The open recruitment system can be utilized by employees working at group companies in Japan, and is aimed at boosting employee capabilities and motivation, as well as invigorating exchange within the group.

2:

Under this system, employees can submit opinions and suggestions regarding their current work duties and workplace, as well as career plan aspirations, to the Human Resources Department. The self-assessment system is implemented on a once yearly cycle, with the goals of further developing employee potential, ensuring assignment to appropriate jobs, and improving the workplace environment.
Fostering Human Resources Adept in the Digital Era
Otsuka Holdings is conducting a variety of initiatives to speed up digital transformation throughout the group. One example is the Otsuka Group AI Forum, which is used to share case studies of group companies' successes and generally promote the spread and understanding of artificial intelligence mainly among group company managements and directors. Training in a wide spectrum of technologies such as data science is also provided in order to help boost employees' IT capabilities. In addition, a group-wide portal site was launched in 2021 to disseminate and share in-house and external information relating to digitalization.
Otsuka Medical Devices hosted a training session at which university professors shared examples of how to employ artificial intelligence in the field of medicine.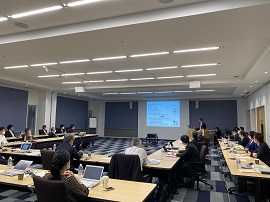 Meanwhile Otsuka Warehouse, knowing that IT is vital for overcoming the challenges faced by the logistics industry, is seeking to improve the IT literacy of its employees through encouraging employees to take the Japanese government's IT Passport exam by holding in-house study workshops and subsidizing examination fees. The company's commitment to building IT competency also includes ongoing year-round IT skills training for those who pass the exam.
Human Resource Development Institute Encourages People to Turn Ideas on Their Head
"Our mission is the development of human resources who can break the mold."
In March 1988, the Otsuka group established the Human Resource Development Institute, an employee training center in Tokushima City, the birthplace of the Otsuka group of companies. The institute's mission is to foster the development of creative human resources who can break the mold of conventional thinking and contribute to Otsuka's ongoing success as a "big venture" company. The institute has three monuments that embody the Otsuka values of actualization and creativity, including the Giant Tomato PlantTree, which symbolizes the theme of the institute: "turning ideas on their head." New employees are trained in these ways every year at the institute.

Support of Career Independence
HR Interviews and Communication between Supervisors and Staff
At Otsuka Pharmaceutical, the Human Resources Department holds individual interviews with every employee, and follows up on the issues they raise. Interviews are conducted with more than 1,500 employees every year.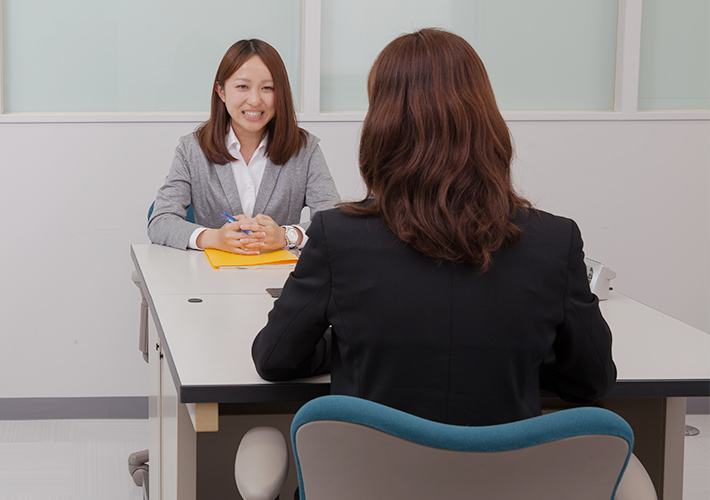 At Taiho Pharmaceutical, approximately one-third of personnel in the Human Resources Department have obtained career consultant* qualifications, and the company actively supports career development that accommodates the aims of each employee. In 2014, the company opened a career counseling office staffed with both industrial counselors and career consultants. In addition, since 2021 Taiho Pharmaceutical has distributed a handbook on career counselling for managers, and have started a system that allows supervisors and subordinates to openly discuss their careers using a career design sheet (developed inhouse) as a tool for employees to think deeply about their own careers.
*

In April 2016, "career consultant" was defined in Japan's Human Resources Development Promotion Act and became a national qualification. Career consultants are professionals who provide consultation and advice on job selection and skill development to students, job seekers, people currently working, and others.
Learning Support
At Otsuka group companies, we have introduced support for self-study using e-learning run by external organizations, in this way providing opportunities for employees to achieve personal growth and self-fulfillment.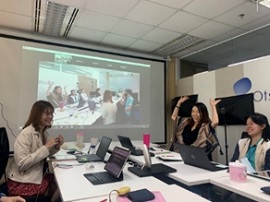 In April 2020, we launched the Global E-Learning (GEL) Platform employing the Harvard ManageMentor program provided by Harvard Business School Publishing Corporate Learning. A first for the Otsuka group, it is a shared learning platform for group employees worldwide. So far, a total of 2,400 employees from 75 group companies in 29 countries/regions have participated. In addition to cultivating business literacy and skills, the program features messages from top Otsuka group executives, as well as training initiatives unique to Otsuka that group employees around the globe can take part in together, including a learning "café" and webinars.
Otsuka Chemical assists employees in improving their skills and knowledge under our qualification acquisition support system, which provides examination fees and incentives for getting qualifications in a variety of fields. Otsuka Warehouse also has a system in place for employees who raise their hands and wish to take on a challenge to attend business school, based on the belief that good input produces good output.
Employee Evaluation and Feedback Process
At Otsuka group companies, individual sets goals that are rooted in organizational objectives. Employees sit down and talk with their supervisors to help with goal setting. Every six months the supervisors evaluate and provide feedback on employees' self-assessments regarding progress to aid with their development. Also, a system was introduced in 2020 to enable the integrated management of personal information in such areas as goals, evaluation, training, and the selection, promotion and nurturing of exceptional human resources. As of June 2022, more than 10,000 group employees have been entered into the system, helping to maximize human resource development and organizational strengths.
Example of Each Company's Training Systems