Basic Policy
In October 2018, the Otsuka group announced its Declaration of Customer-centric Commitment, as a way of putting the corporate philosophy into practice. We consider respecting consumer rights to be an important human rights issue and have established basic policies stating our commitment to our social responsibilities as a corporation, which we fulfill by pursuing customer-centric management and making appropriate decisions that are based on dialogue with all stakeholders.
Each group company establishes dedicated customer contact points for patients, healthcare professionals and general consumers, and provides appropriate training for the employees who work there. We strive to deepen communication with customers, provide appropriate information and reflect customer requests and suggestions in product improvements.
Approach
Fostering Employee Awareness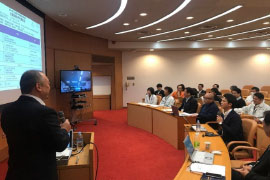 Otsuka Pharmaceutical reflects feedback from customers in development and improvement of its products. An annual meeting to "Listen To Customer Feedback Meeting" is held jointly by the Quality Assurance Office and the Customer Consultation Office of the Quality Division as one activity that utilizes cooperation among relevant internal departments to help provide swift responses to problems. The December 2020 meeting included many online participants from the Tokushima, Osaka and Tokyo headquarters and manufacturing sites, as well as representatives from marketing, production, quality and compliance departments and Otsuka Holdings.
Enhancing Information Exchange with Customers and Mechanisms for Reflecting Customer Feedback
Each group company establishes dedicated customer contact points for patients, healthcare professionals and general consumers, and provides appropriate training for the employees who work there. For example, the assignment of specially trained female operators enables us to better answer inquiries about products designed for women. This approach helps us deepen communication with customers, provide appropriate information and reflect customer requests and suggestions in product improvements.
Examples of Improvements Based on Customer Feedback
Redesign of Containers to Make Them Easier to Hold and Open (Otsuka Pharmaceutical Factory)
One such product improvement was for OS-11 and OS-1 Jelly,1 produced by Otsuka Pharmaceutical Factory. These products are foods for persons with medical conditions. We received input from elderly individuals, customers receiving treatment, those in need of nursing care and others who reported difficulty opening the cap because of muscular weakness. Based on these inputs, we redesigned the container to be easier to open. Our pursuit for products that are better and easier to use was evaluated with the Good Design Award in 2020. We have also created websites that provide product information in Japanese, English, Chinese and Spanish, and added QR codes to product labelling that link with these websites.
Another example is ENORAS Liquid for Enteral Use, which uses a package design that considers the diversity of color vision, acquiring the Color Universal Design (CUD) certification.2 The improved product identifiability is expected to contribute to the better drug adherence of patients3 and the prevention of medication errors among healthcare professionals.
1OS-1 is approved as a food for persons with medical conditions and is intended to provide water and electrolytes in order to maintain the proper water and electrolyte balance in persons with mild-to-moderate dehydration (Approved by the Consumer Affairs Agency)
2Third-party certification ensuring that a product has a color scheme that is easy for most people to understand.
3Adherence refers to patients actively understanding the meaning and significance of treatment and taking their medicine correctly rather than discontinuing medication of their own accord.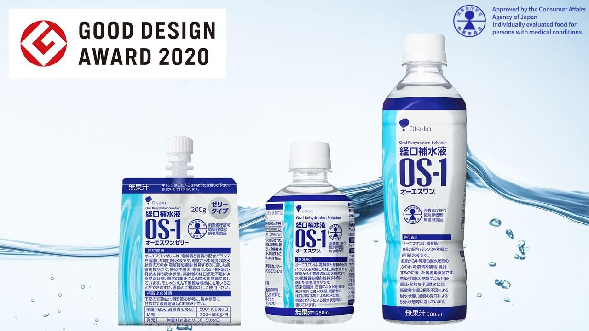 OS-1 received a Good Design Award in 2020.
Example of Improved Product: OS-1 500 ml plastic bottle
To make it easier to hold, the bottle was redesigned from a round shape to an angled shape that narrows in the middle.
A QR code was added to the label so that users can access more detailed information about the product.
To make the cap easier to open, its grooves were made finer, and the opening direction is indicated on the top.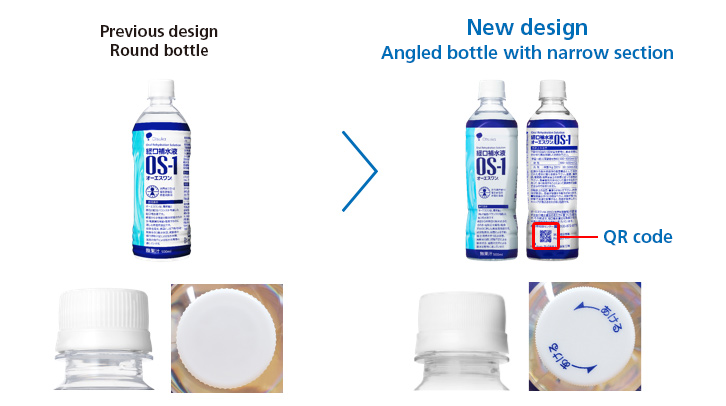 Example of Improved Product: OS-1 Jelly
Enlarged cap diameter by 5 millimeters.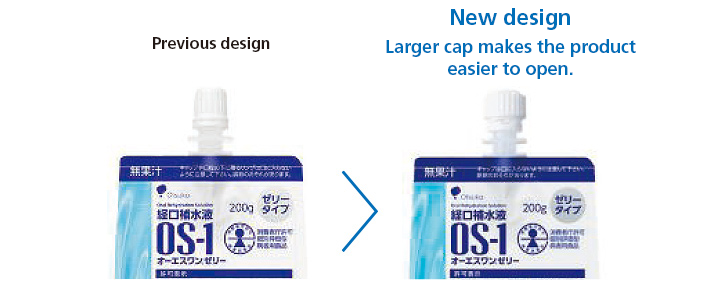 A New Design Easy for Everyone to Understand (Otsuka Pharmaceutical Factory)
ENORAS Liquid for Enteral Use, a line of enteral nutrition formulas (for both oral and tube feeding), which is a prescription drug manufactured and distributed by Otsuka Pharmaceutical Factory and EN Otsuka Pharmaceutical, uses a package design that takes into consideration variation in color vision among users and makes it easier to tell product variations apart. In recognition, the Color Universal Design Organization1 granted the product line CUD certification2 in June 2020. We expect this package design to help prevent medication errors, not only by those prescribed the product, but also by healthcare professionals who handle the product.

1

A non-profit organization that contributes to the realization of a society where all people can live a fairer and more culturally rich life. It widely conveys information on color vision to the general public and organizations, evaluating and proposing improvements on color use, and improving the color environment of the real world such that society takes into consideration the variation in human color vision.

2

Third-party certification ensuring that a product has a color scheme that is easy for many people to understand.
https://www.otsukakj.jp/info/20200716.pdf (Japanese)
Clearer Labels for Healthcare Professionals (Otsuka Pharmaceutical)
Inquiries from healthcare professionals led to a change in product labelling for Otsuka Pharmaceutical's UBIT Tablets, a diagnostic agent for Helicobacter pylori infection. Although the package insert states that only one tablet is to be taken during an examination, the company occasionally received inquiries as to whether two tablets were necessary because the product is packaged with two tablets per box. This seemed to call for a reminder, from the viewpoint of promoting proper use and preventing erroneous use. After consideration by the relevant departments, a warning to indicate one tablet per dose was added to the strip package and individual boxes.

Labelling That Is Easy for Consumers to Understand (Otsuka Foods)
For packaging produced by group companies in Japan, with the exception of certain products such as those with space limitations, we ensure the understandability of labelling. In addition to information required by law, the following information is presented: instructions for storage after opening, precautions for use, an easy-to-read list of allergens contained (mandatory and recommended items), and a clear indication of packaging materials. Based on customer feedback, we continue to make further improvements. For example, Otsuka Foods has redesigned allergen labelling by adding a list of allergens on the package in a separate location from the comprehensive list of instructions and precautions. For Bon Curry for Children, illustrations have been added to make the information easier to understand, so that consumers can purchase it with peace of mind.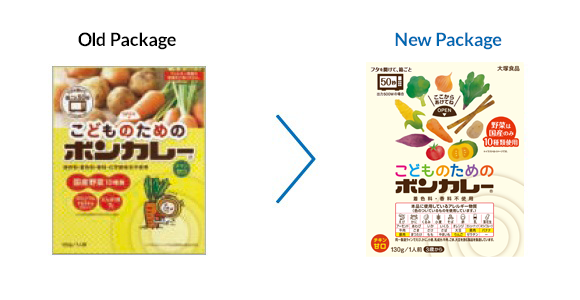 Otsuka Group Customer Service Liaison Meeting
Customer-facing employees from group companies in Japan meet twice yearly to share best practices for customer service and product improvements. In 2020, 27 representatives from customer service centers in the Pharmaceutical, Nutraceutical, Consumer Products and other businesses participated, and confirmed the current situation and challenges amid the COVID-19 pandemic. At the 25th meeting, held in the spring of 2021, best practices for customer service and product improvement were shared. The meeting helps foster a customer-centric corporate culture through interactions against a backdrop of varied business characteristics and experiences.
Inter-Departmental Collaboration in the Event of a Problem with a Nutraceutical Product or Service
Customer service centers at each company operate a system for ongoing cooperation with production, quality, sales promotion and other relevant departments across the company. For example, Otsuka Pharmaceutical provides daily reports of customer feedback to the product quality and production departments as well as to personnel in charge of each product. Collaboration among internal departments in the event of a problem with any product or service helps foster customer-centric awareness. In addition, upon receipt of inquiries from the National Consumer Affairs Center of Japan or other consumer affairs centers, the relevant departments and related group companies work together to respond and earn the trust of consumers.
Communication with Stakeholders
The basic policy behind the Otsuka Group's Declaration of Customer-centric Commitment is to make appropriate decisions through dialogue with all stakeholders and to promote customer-centric commitment as part of corporate social responsibility.
We also seek to inform the public about the Otsuka group's efforts to solve social issues, and how those efforts contribute to the SDGs. In 2019, we exhibited the Otsuka group's consumer-oriented and environmental initiatives at an exhibition for the new head office of a financial institution, introducing our efforts to about 8,600 visitors. At a prefectural high school in Tokushima Prefecture, to encourage children to think about the future we held a workshop that featured a lecture on the SDGs, and promoted ethical consumption by raising awareness of SDGs 12: Responsible Consumption and Production.
We regard manufacturing site tours as a valuable form of communication with customers. Otsuka Pharmaceutical's Tokushima Itano Factory, the Human Resource Development Institute, and Otsuka Foods' Tokushima Factory, all of which are located near the Tokushima Headquarters, actively accept site tours. In 2019, approximately 10,000 people visited in about 350 groups, including individual customers, schools, consumer groups, local governments, and relevant government ministries and agencies.